The #1 combat racing, custom vehicle building, totally addicting, action game of the year is back! Hovercraft: Battle Arena pits custom Hovercrafts from around the world against each other in 3v3, open arena, PvP combat!
INTENSE 3V3 MULTIPLAYER MATCHES
Work with your team to dominate the arena. Watch your shields, manage your boost and ammo reserves, collect powerups, and blast the enemy team to pieces!

BUILD ANYTHING
Build a completely custom Hovercraft, brick by brick, and customize your weapon loadout with machine guns, sniper rifles, tracking lasers, triple rocket swarms, and more! Choose from thousands of possible weapon combinations!

COLLECT, UPGRADE, & EVOLVE UNIQUE HOVERCRAFTS
Upgrade Hovercrafts to increase shields, speed, ammo, and damage. Each Hovercraft has their own special combat perk. Evolve Hovercrafts to unlock new skins, additional weapon slots, and huge upgrades to their combat perk.

EPIC REAL-TIME PHYSICS-BASED GAMEPLAY
Insane real-time physics and damage! Blast Hovercrafts into hundreds of pieces, bash them into walls, destroy weapons and thrusters and watch them explode! Endless ways to take out the competition!

AWESOME BATTLE ARENAS
Battle on the Neon Grid, weave through iconic Stonehenge, or hydroplane through Crater Lake. Explore all of the unique Battle Arenas.

Experience insane multiplayer arena combat, like nothing you've played before!
Hovercraft: Takedown is the #1 combat racing, custom vehicle building, totally addicting, physics based, action game of the year!
​​Thugs have taken over the the Hovercraft highways! Build your custom Hovercraft. Arm it to the teeth with machine guns, lasers, and rockets. Then take to the streets and rack up those Takedowns
Build a completely custom Hovercraft and arm it with guns, lasers, missiles, and more!
Play with friends over Wi-Fi and fight through Survival Multiplayer Mode!
Smash enemy vehicles to pieces and cause crazy chain reaction explosions!
Equip up to 6 weapons simultaneously, and customize your loadout from thousands of possible combinations
Long range sniper cannons? 360 degree tracking lasers? Triple fire homing rockets? How about all of them, at the same time!
Blast your way through gorgeous rocky mountain passes at breakneck speeds
Counter enemy weapons with dozens of unique power ups and weapon types
Upgrade your Hovercraft squadron and become even more powerful
Endless loot! Collect & win tons of rare, epic, and legendary consumables & gear from card packs
Real-time damage models affect all of your Hovercraft's systems, from weapons to thrusters
Experience insane physics-based combat racing, like nothing you've played before
Hovercraft is the #1 hover action simulation, arcade racing, custom vehicle building, totally addicting, physics based, breakout hit game of the year!
Build a completely custom Hovercraft in a simple, yet powerful editor
Blast your way down an urban highway in the sky
Dodge and weave through traffic at insane speeds
Cause crazy chain reaction crashes and watch Hovercrafts go flying!
Experience physics based hovering, collision and destruction
Earn huge rewards for piloting your Hovercraft skillfully, and dangerously!
Collect and win over 80 unique Hovercrafts, or create your own fleet from scratch
Spark & Noah created High Score Hero after a combined 25 years working in games. They've created numerous Top Free & Top Grossing games before going independent, and have become accustomed to instant ramen dinners, again.

---

Spark designs the ship and plots its course. He also pretends to code, and gives Noah endless headaches.

---

Noah builds the ship and keeps the gears spinning. He also pretends to design, and gives Spark endless headaches.

---

Rumble mostly naps on the ship, runs around it like a lunatic, and eats up all of the crew's snacks.

---
Powered by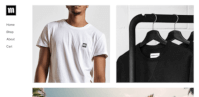 Create your own unique website with customizable templates.